Brad, Brad, Brad. I love to see passion from our football coaches, but Brad Scott might be the one example where too much passion is a negative. Scott made an absolute goose of himself when he made the outrageous claims that umpires had admitted they would not pay free kicks to Lindsay Thomas, but this is not the first time that Scott has flown off the handle during his time in the AFL – remember that time he made Nick Riewoldt cry? There is no doubt that he is an angry man and below are ten other moments where Scott allowed his anger to go to hilarious levels.
Scott McMahon Wets Himself After Scott Spray
Scott McMahon was the first North Melbourne player to publicly receive a withering spray from Brad Scott.
McMahon gave away a 50 metre penalty for picking the ball up after giving away a free kick and it is fair to say that Scott was not particularly happy with this action.
Jonathan Brown slotted the goal and McMahon was almost reduced to tears by the North Melbourne coach.
Winning Actually Makes Brad Angry
Most coaches in the AFL really seem to enjoy winning, but Brad Scott still always looks angry when he is celebrating a positive moment from his team.
Lachie Hansen kicked a crucial goal for North Melbourne during a key encounter with Essendon in 2012, but Scott celebrated as if Hansen had had sex with his wife, while he produced possibly the angriest clap ever when Robbie Tarrant kicked the final goal of the game.
Score Review Send Brad Into Insanity
Just about everybody in the AFL community hates scoring reviews and Brad Scott is one of the leaders of this hatred.
When a clear North Melbourne goal was overruled by a scoring review, Scott looked like he was about to lose his mind and he produced a laugh that would not look out of place coming out of the mouth of a serial killer on death row!
$80,000 Worth Of Fines Later…
Brad Scott made a fairly low-key start to his press conference following North Melbourne's loss to Hawthorn last Friday night and he seemed like he would be happy to blame his players for the defeat, but a question about Lindsay Thomas was like a red rag to a bull.
Scott did not miss the umpires and he casually dropped the bombshell 'that the umpires told our players that he is a ducker, so we don't pay high free-kicks'.
You could hear the delight in the voices of the journalists that asked the follow-up question and Scott looked like he was ready to snap, but he did manage to somewhat keep his cool.
It didn't stop him costing himself and his club a total of $80,000!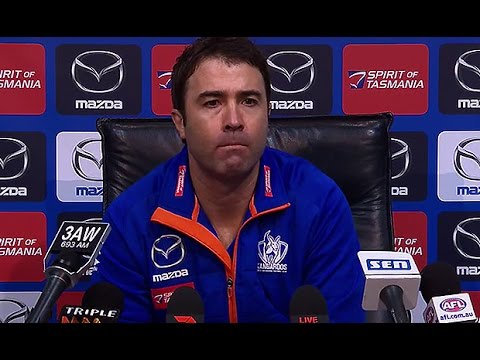 He Has Always Been Like This
Scott really can't blame coaching such a mediocre football team for sending him over the edge.
Both he and his brothers are up there with the angriest AFL players to put a pair of boots on and they never saw a scuffle that they didn't want to get involved in!